The Damon Knight Library
Science Fiction legend Damon Knight's Official Home Page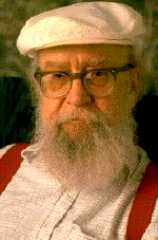 Damon Knight was one of the most influential pillars of the science fiction field as an author, editor, critic, mentor, activist, protector, and fan. His forte was short stories and he is widely acknowledged as having been a master of the genre, particularly noted for his humor and wit. His novel A For Anything was called "A masterpiece" by noted SF critic Barry Malzberg.
He was a member of the Futurians, an early organization of the most prominent SF writers of the day, including writers like Isaac Asimov. (See: The Futurians.)
Damon founded the Science Fiction and Fantasy Writers of America, Inc. (SFWA), the primary writers' organization for genre writers, as well as the Milford Writers workshop and co-founded the Clarion Writers Workshop. He edited the notable Orbit anthology series, and received the Hugo and SFWA Grand Master award.
The SFWA Grand Master award was later renamed in his honor as the Damon Knight Grand Master award.
He was married to fellow award-winning writer Kate Wilhelm.
---
Damon's books are all available in print and ebook editions in the Bookshop, by license to ReAnimus Press.
All content © Infinity Box Press LLC